Work begins on 21 new council homes as sites are put to constructive use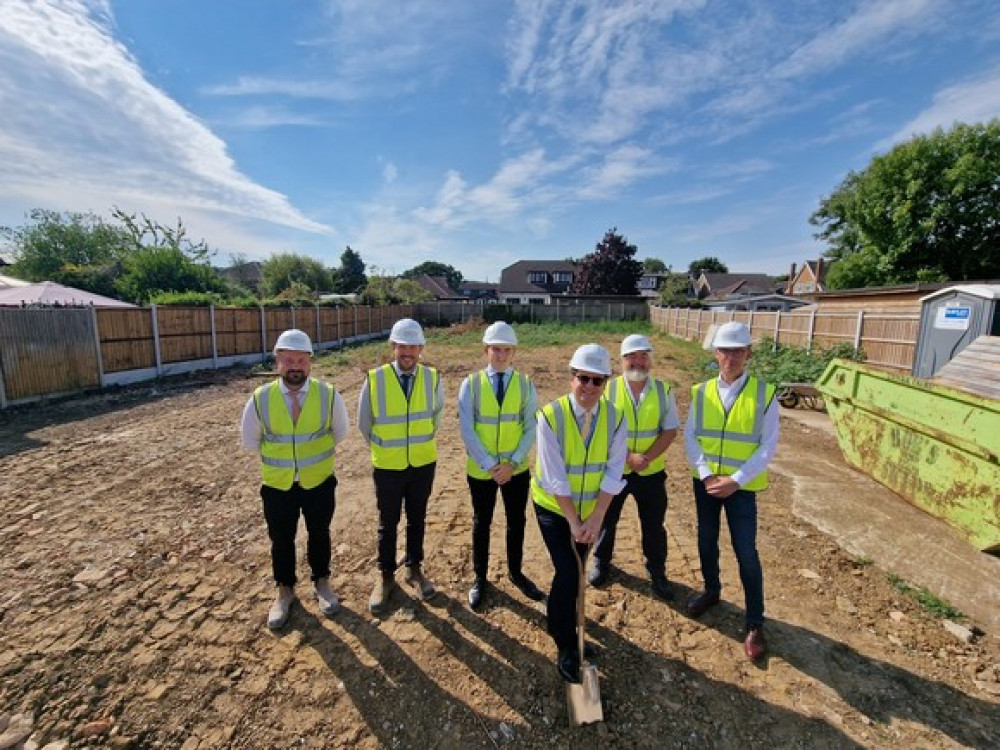 From left: Neil Fox - Indecon Limited, Mark Davison - Indecon Limited, Luke Rapley - Project Manager, Cllr Andrew Schrader - Chairman of the Housing and Estate Renewal Committee, Trevor Burns - Development and Investment Service Manager, Cllr Jeff Henry - Cabinet Member for Health, Wellbeing, Leisure, Arts, and Culture
WORK has started on the building of 21 new homes, exclusively for residents on Basildon Council's housing register.
The properties will be built at six borough locations, of which four are former garage sites. One is a simple demolition and rebuild, and one is the conversion of a former community hall.
The units are a mix of 12 two-bed houses, one three-bed house, one four-bed house, six one-bed apartments, plus a two-bedroom wheelchair-accessible bungalow.
Work has started with all six sites and is expected to be completed within the next 15 months.
Cabinet member for housing and estate renewal, Cllr Andrew Schrader said: "These new homes will breathe new life into sites that were underutilised, no longer fit for purpose, and needed revitalising.
"The homes across all the sites will come with appropriate allocated parking, will be safe and secure and will achieve Secure by Design Gold Standard. They will be of a modern design, and all will adhere to national space standards.
"The developments will provide vital council homes to our residents in need – and I look forward to seeing them complete and being able to hand the keys over to 21 sets of Basildon residents."
The homes are being built as part of the council's Housing Revenue Account (HRA) house building programme, and are being delivered by a local contractor, Indecon.