HALO and a welcome for possible ambulance crisis solution from MP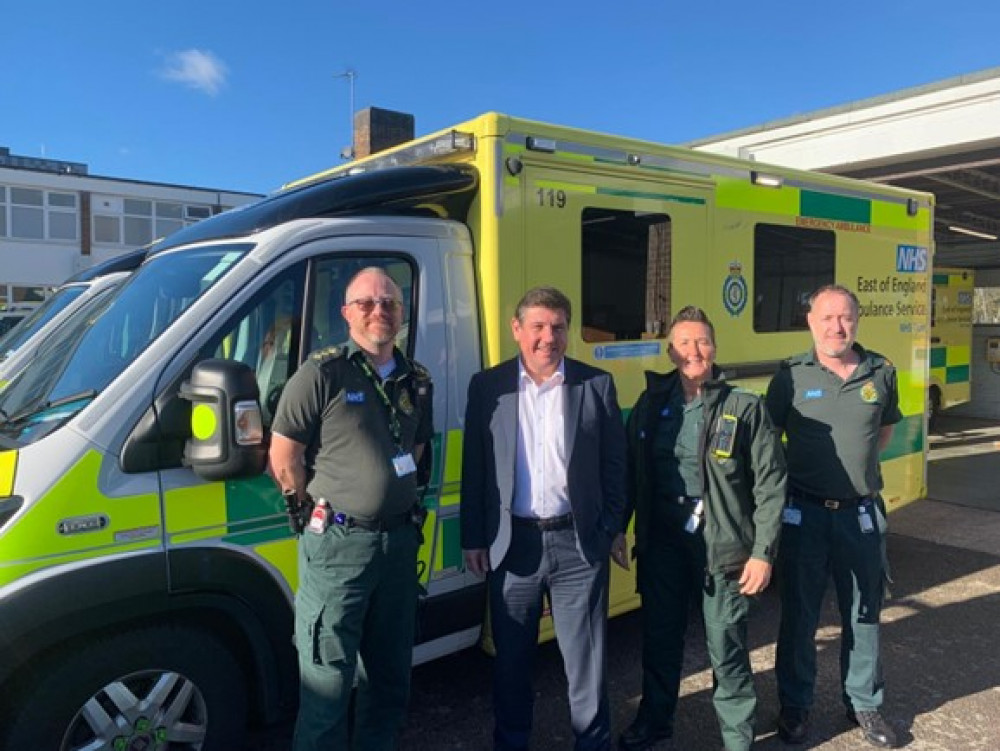 Stephen Metcalfe with one of the ambulance crews.
THE 'struggles' of the East of England Ambulance Service to cope with 'enormous challenges' has been highlighted by local MP Stephen Metcalfe.
South Basildon and East Thurrock MP Mr Metcalfe the service's Basildon station to hear about the unprecedented demand on ambulance teams and to thank them for their hard work under often difficult conditions.
There has been widespread concern about the performance of the service, which serves a large area of eastern England and had gained notoriety for the delays in waiting times for ambulances in both emergency and non-emergency situations.
It has a workforce of over 4,700 people and is responsible for more than six million people, so the task it faces is not small so Mr Metcalfe felt it was important to visited an operational station and speak to those in the front line.
His visit to Basildon his followed a visit over the summer to the service's control centre in Chelmsford.
Mr Metcalfe, who prefaced his meeting by saying staff faced 'struggles and enormous challenges' met with managers and paramedics in Basildon to learn about the challenges the crews face on the ground. These include an aging population, staff shortages, and bed blockages in local hospitals which leave ambulances waiting for hours to hand off patients before they can get back out on the road.
He also met with new Hospital Ambulance Liaison Officers (HALOs), a possible solution to some of the ambulance service's challenges. The HALO officers liaise with hospitals and ambulances to prevent bed blockages.
The ambulance service believes this is a system-wide solution that is needed to improve the flow of patients in, and out of, hospital, saying adult social care, ambulances, and hospitals, need to co-ordinate their work to improve patient experiences and outcomes.
Mr Metcalfe said: "A big thank you to the East of England Ambulance Service for taking the time to chat to me.
"I acknowledge that changes need to be made to improve waiting times and to ensure that the Ambulance Service is working as efficiently as possible for the benefit of crews and patients alike.
"I am encouraged by the new HALOs and believe that it is the first step to achieving this.
"I will continue to monitor the challenges faced by the East of England Ambulance Service closely and support them as we work together to find a solution."